Written by: Aya I. Shaaban
This is Aya and I will be covering for Rawan this week since she has an important upcoming exam. #PrayForRawan.
The month of May is just a few days away! That means, for our student readers out there, that finals are coming; brace yourselves. Till then, enjoy procrastinating and check out what has been trending this past week on social media:
1) #Doctor_Patient_Tension
A few weeks ago Eman Abd El Aty, a young Egyptian woman dubbed the "heaviest woman alive", was being treated in India by a medical team. There were some breakthroughs after her bariatric surgery, which is used as a last resort for severely obese people, and Abd El Aty's weight went down from almost 500 kilograms to 172, according to this BBC article.
However, her sister accused doctors of lying about Abd El Aty's improving health. As a result, one of the medical team's doctors posted on Facebook to explain why her and the team would resign from Abd El Aty's care. 
https://www.facebook.com/draparnagovil/posts/10158609532060593
She will be transported to Abu Dhabi for further care. 
Medicine is a delicate profession in which the professional and personal often mix; there will always be tensions between doctors, patients, as well as families of the patients. In such a high profile case as Abd El Aty's, it is necessary – but quite unfortunate – for such disagreements to take place. Hopefully, Abd El Aty has a swift and complete recovery.
2) #PopeVisit
This weekend, Pope Francis of the Roman Catholic Church is visiting Egypt. His tour includes visiting Zamalek, Maadi, Al Azhar Mosque, and New Cairo.
We just wish he had dropped us his number so we can take him to our chillest hang out spots.
https://www.facebook.com/photo.php?fbid=10154481030473045&set=a.419969203044.194148.720698044&type=3
3) #3absalameyat
The hottest artist of 2017, 3absalam (yes, I know I am being biased, but his music is a killer!) may not really top the charts or be trending on music apps; but these videos, in which his famous track is added to iconic scenes and clips, are pure gold!
Here's Emma Stone and Ryan Gosling in La La Land jamming to 3absalam's beat:
https://www.facebook.com/mostafa.seleman.589/videos/1446538808729875/
And Damien Chazelle's first film Whiplash has also received the 3absalam treatment:
Also, Tom and Jerry cannot help but start jamming:
The Teletubbies showed off as well:
https://www.facebook.com/gasser.mohamed.33/videos/10213057929825551/
4) #MessiShirtMeme
It seems that Lionel Messi cannot help but be meme-ified wherever he goes and whatever he does. After the player's winning goal for Barcelona in El Clasico, he held up his shirt in celebration. Internet users, both internationally and in Egypt, thought it would be hilarious to photoshop him in different contexts.
5) #CairoBites
For foodies out there, ready your spoons, forks, and stomachs because Cairo Bites is coming up next weekend. According to the Facebook page, this is one of the largest food showcase events in the nation. There will be musical entertainment and a kids' area so it is suitable for families. RSVP and get your tickets because you don't want to miss this!
People on a diet, please do not feel any remorse or guilt.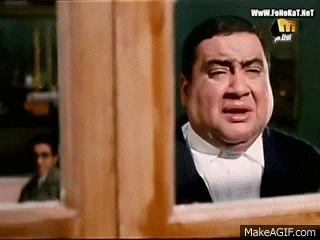 Bonus: Relatable Comics/Memes
1- When you love your friend but hate their singing:
https://www.facebook.com/TwelveFanX/photos/a.850236958432033.1073741828.850080908447638/1222517644537294/?type=3&theater
2- When you are on your way to screwing up:
What are your thoughts?
Let us know how your week on social media was like. Are there any trends we missed? Share them with us in the comments.